Online Induction
Training Software

Simple and user friendly, yet comprehensive!


Best value for money online induction tool

Online Inductions are a simple, transparent and cost effective way to keep your employees, contractors and volunteers inducted fast, while allowing your business to be OH&S compliant. Run your own induction training anytime and anywhere.
organisations of all sizes and shapes are using IFW to deliver their workplace induction training
Step 1 - Create / upload inductions
Step 3 - Track compliance
Place online inductions at your fingertips
Upload your own training material and safety policies or create new content using an easy to use online induction software. Setup your own tests and pass scores, preview and export account activities to Excell. Free online help tutorials for admin users.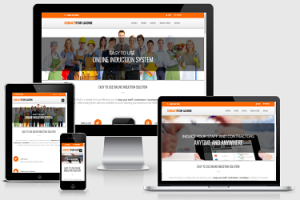 Send instant link invites to your participants. Online inductions are done on any device connected to the net.
Apps with embedded QR code readers can be downloaded by admin users to validate certificates and id cards.
Track inductees progress and generate printable reports on all account activities in an instant. Auto collect and track compliance documents as part of online inductions. Expiration dates are monitored by the system and both users and admins are notified.
Spending less time with easy to use editor

Your own branding is displayed 

Improving learning experiences and outcomes

Monitoring and testing user's knowledge

Bringing across workforce details in seconds

Delivering site training to the right people in seconds

Capturing Insurances and Licences during inductions

Certificates of Completion are sent to admin and users

Auto Notifications remind users to stay up to date

Auto Invites and reminders are distributed to users

Running same or different inductions for each site

Inviting your users to self register via a link on your website

Inviting other admin users with various access levels

Scanning certificates to get an instant access to user info

Printing or export reports on all account activities

Ongoing technical support for admin users

All data is securely stored in Australia

Inducting unlimited users

Moving information between your apps automatically
Create online inductions courses

Attach your own logo and colours

Attach images, voiceovers and videos 

Setup questionnaires and pass scores

Import existing user database

Invite workforce to train online

Request copies of compliance documents

Receive copies of all Certificates issued

Monitor expiration dates

Request to do refresher courses

Multi sites capabilities

Multiple self registered portals

Having additional admin users

Scan Certificates and ID cards

Generate account reports

Get any questions answered 

Security

Induct entire workforce

Integrate with 1000's of other apps
Start inducting today with 14 day Free trial. No Credit Card is required.
Apps are available for Iphones, Ipads and for Android device
"By using Induct for work, our HSE Online induction program helps to ensure compliance with WHS requirements. The online induction forms part of Sommer & Staff HSE Consultation, Co-operation and Coordination process"
"Induct For Work helped us engage with our staff, who are often too busy to all sit in a room together to receive important training. System has been excellent for auditing purposes - Fair Work, WorkSafe, HACCP, Freshcare. All have been very impressed with its capabilities
.
"


introduce workforce to company inductions faster

Track and monitor users compliance documents

Stay in charge of your own content

single or multi site capabilities

Sign contractors in / Out


7 Reasons why you should start using induct for work
1.
Simple & Easy – Induct For Work is designed to be used by any office staff without a degree in Information Technology. Most of our customers find it really easy to create and to manage their accounts. For people with busy time schedules we offer various in-house account assistance packages, where we take care of everything. 
Benefits: Reduce the time and costs to deliver and monitor Inductions. Give your staff, that are responsible for delivering your Inductions, time back to focus on other tasks that help to generate revenue. 
2.
Peace of Mind – before staff can start their first shift, attend a new site or operate new machinery, they must be inducted. Traditionally, inductions are held prior at a company office, site or clients premises. This process is time consuming and costly. It is also very inefficient for everyone. Induct for Work allows you to send inductions to your staff, contractors and/or volunteers to their personal devices at any time (with an internet connection) and complete the Induction at home, while travelling to a work location, in between shifts or on-site.
Benefit: Running inductions at a single location requires all staff to attend a site. This costly, time consuming and inefficient process that can be eliminated, reducing costs for hardware (PC's to run the induction) or printing paper tests and automate pass/fail marking and well as labour cost. Once again give your staff that are responsible for delivering your Inductions time back to focus on other tasks that help to generate revenue. 
3.
Finger on the Pulse – keeping up to date with staff/ contractors and /or volunteers that are inducted, which versions they have completed and visibility of whether they passed the test is labour intensive and time consuming to manage and reconcile. Induct for Work offers a simple and easy way to audit every induction across every staff/contractor/volunteer and know instantly whether they are compliant or require additional support and assistance with their training. 
Benefit: Automate and minimise the manual process of marking and validating the Induction tests. Know exactly which staff to focus on to bring them up to speed as soon as a test is completed, no matter where the test is conducted. Save your admin staff valuable time on this process. 
4.
Rinse & Repeat – every-time you start a new project, access a new site, win a new client or experience changes of a process, so does the need to induct your staff/contractors and/or volunteers. Induct for Work makes it easy to add new questions, make changes to existing questions, update questions, content and collateral without the need to re-invent the wheel, saving you time, money and valuable hours. 
Benefit: Utilise valuable time on running & growing your business rather than being bogged down in the essential manual repetitive processes of your current Inductions. 
5.
All your documents in 1 place – with every job, you need to collect and collate a vast array of documentation including, insurances, licences, permits/trade cards, accreditations, training, compliance, public liability cover, Workcover, Working with Children checks,Union cards, Working Visa etc for every staff/contractors and/or volunteer. Induct for Work allows you to store and manage all these documents to ensure that your business is compliant. Induct for Work will even alert you when all these documents are due to expire so that your can work with your staff/contractors/volunteers to manage renewals and mitigate any risk of non compliance.
Benefit: Dramatically reduce the time it takes to manage content and deliver version control of all documents. The alerts allows your business to be pro-active on managing your compliance rather than being re-active.
6.
Be a partner, not a vendor  – Differentiate the value you deliver to your clients and build stronger partnerships by offering full transparency of the inductions conducted. 
Benefits: Be different, stand out from your competitors and build trust by demonstrating that your investing in solutions to deliver better visibility and outcomes for your clients.
7.
It costs nothing to start – Registration and basic accounts are free. This helps small businesses to keep  their workers trained and compliant so that they feel safe and confident in doing their jobs. We are so dedicated to this cause that our standard package (entry level) is provided at no cost to you – EVER!!! When you grow and require to run more courses and to take more inductees through training, we have a number of plans available starting from $99 + gst per month. If your business is affected by seasonal work, you can move up & down on the plans as many times as you need, without any penalties. No terms, no contracts, access to your own data 24 X 7 = total flexibility. 
Benefits: Remove a very manual, time consuming, costly, inefficient and essential process from your business by embracing technology to make it simple, easy, fast and more reliable that the current way. Deliver a better experience for your staff in being inducted, better visibility for your clients on the results of the inductions and allow your staff to focus more time on your customers, partners and vendors to help your business thrive. 


Our Mission:

to provide you with the easiest to use induction tool

to help you stay compliant

to save you time and money

to provide users with regular online training


What is an Online Induction Software?
Online Induction Software is the key to saving your organisation's time and money in workforce training. It's the only tool you'll need to get your staff inducted, trained, compliant and prepared to start work faster, before ever setting foot on-site. Online Induction Software is the first step towards the commencement of employment of any employee, contractor or volunteer.
Online inductions propel and guide a new employees' adjustment period by equipping them with all the fundamental information on their new working environment, required tasks, procedures and company rules and expectations. Simultaneously, they provide employers and management with piece of mind that all workers are thoroughly trained, that there is a consistency in the quality of induction and that they are being compliant.
Here at Induct For Work we offer an Online Induction Software that can fully prepare your workforce, track and manage all your staff inductions, is highly adaptable to your organisation's needs and will increase productivity. In one click, inductions can be administered for workers to complete from home, in their own time and at their own pace. Ensuring workers arrive fully prepared and inducted on day-one.
Induct for Work is perfect for businesses of all sizes across limitless industries, we focus on delivering the best safety inductions, ensuring OHS compliance and keeping you informed on relevant workforce information. Small or growing businesses come with limited management staff and often limited resources. For this, Induct for Work's readily available and time efficient induction software will highly beneficial. Making inductions highly manageable in one convenient location and freeing up supervisor time. Large businesses with multiple sites will benefit from the induction software's ability to rapidly and simultaneously induct their entire workforce across many locations.
Select from our vast and comprehensive induction packages and opt for either self-setup or assisted setup to achieve the best possible training for your workforce. Induct for Work allows you to be in control of your content. Using our software, you're able to customise your inductions to best suit your business from scratch, or select inductions suited to your industry from our wide variety of induction samples. You can create multiple slides and attach voice overs in various languages. You can attach pictures, video links and any other files to your slides.
How 'Induct For Work' can help
Providing workplace induction training to industries including
Logistics
Government
Education
Manufacturing
Retail
Mining
Engineering
child care
events
Property