Induct For Work is a fully customisable Online Induction Software system that allows you to create, run and to monitor your own online inductions yourself, without being an IT professional. All you need is a web browser and an access to the net.
All accounts (except our free plan) benefit from having an unlimited number of users/inductees. You can induct 10 inductees one second and 10,000 the next. The platform is auto scalable and will handle any number of users.
Some plans will also allow you to auto collect documents such as licences, insurances, certificates as part of your company online induction. Document expiration monitoring system will send out auto-notifications to you, your admin and your users, notifying of upcoming document expiration dates to assist you keeping all important documents up to date.
---
Once you register your account, it has to be setup. There are couple of options available.
Option 1.
Self setup (highly recommended).  All tools are provided for you to create your own content, setup quizzes, turn various functionalities on or off.
Option 2.
Let our team set it up for you.  Our packages start from only $345 + gst. We can convert and upload your existing Powerpoint or Word inductions. We can setup questions and answers, set pass scores, create multiple admin users. Our specialists can create you a brand new induction, specific to your own workplace.

The system is fully accessible and transparent. You can monitor what changes are being made to your account at any given time.
Let's look at what generic setup involves.

Step 1
Set up your company profile. By clicking this area you will be able to access and update your company profile information.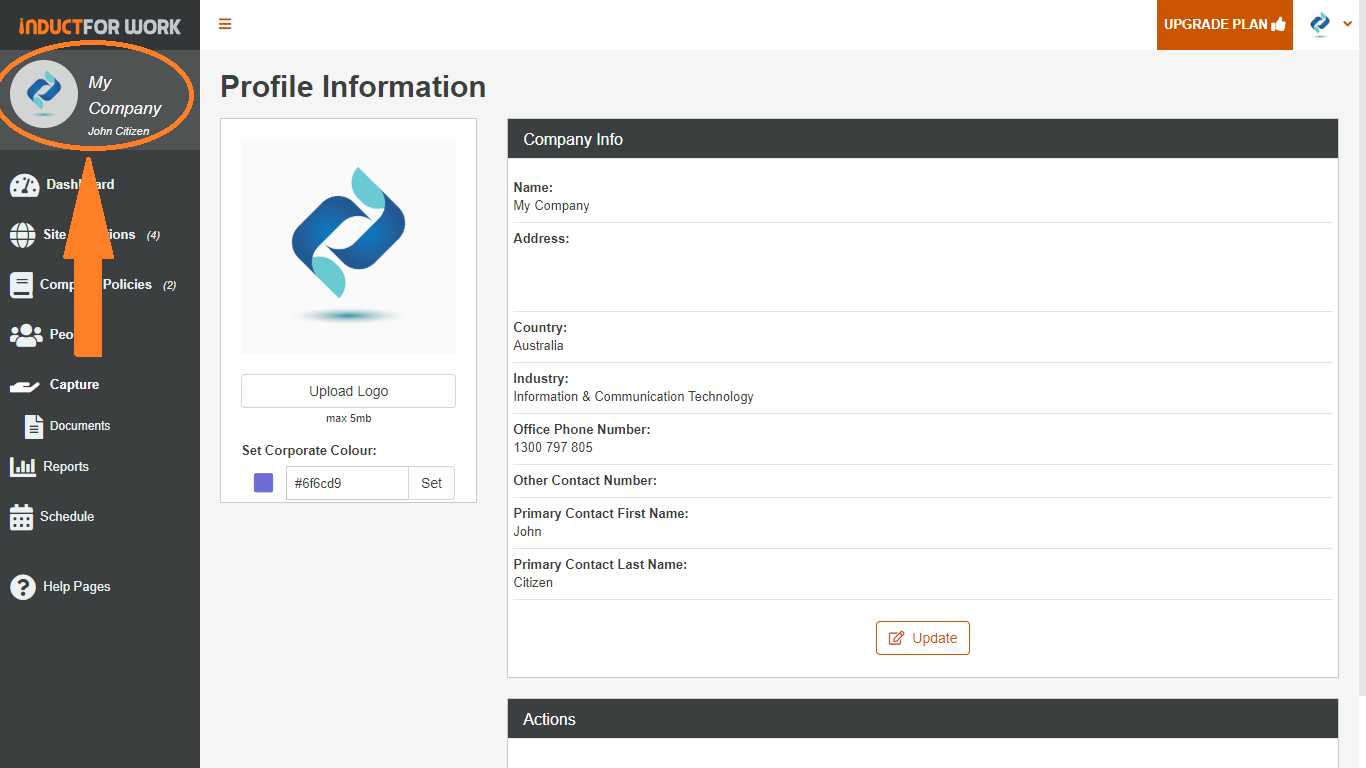 Step 2
Create your own online induction or a number of Inductions. Click on 'Site Inductions' then 'Create Induction Course'.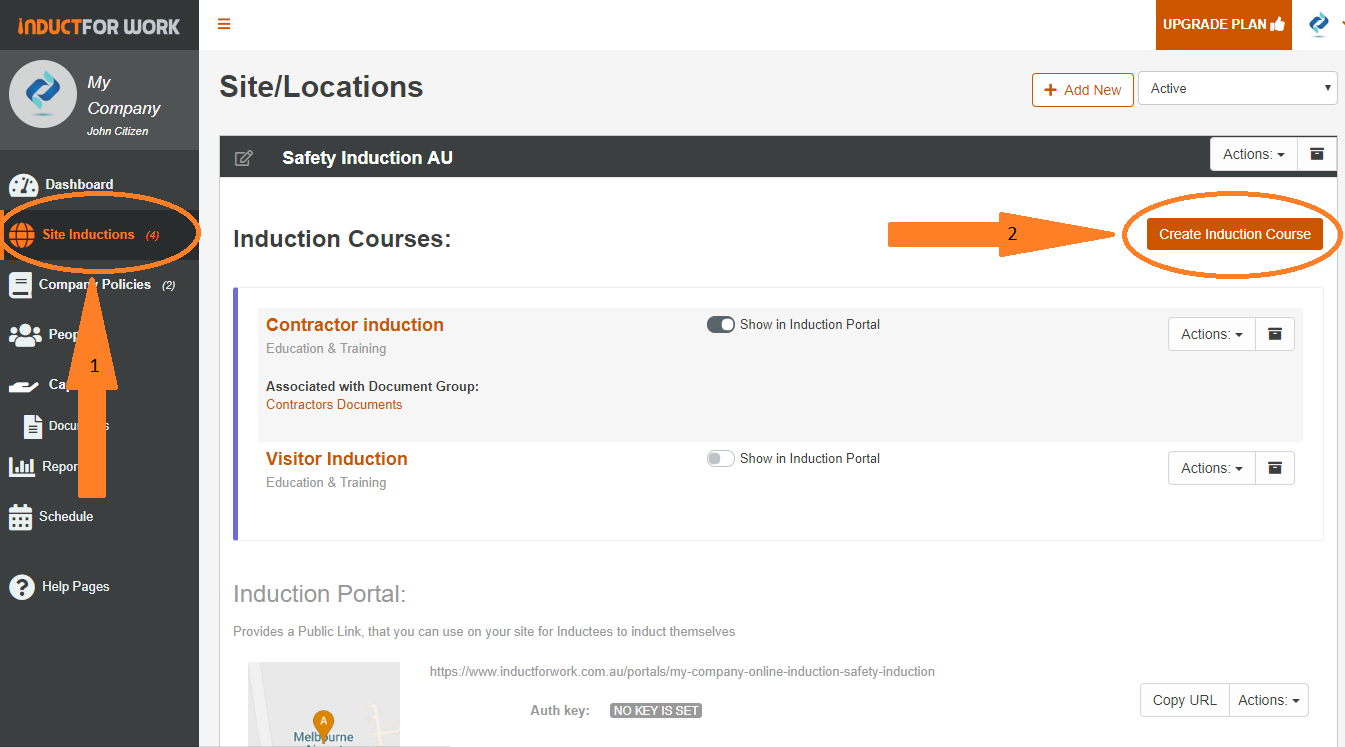 Step 3
Create your Company Policies. Click on 'Company Policies' then 'Create New'.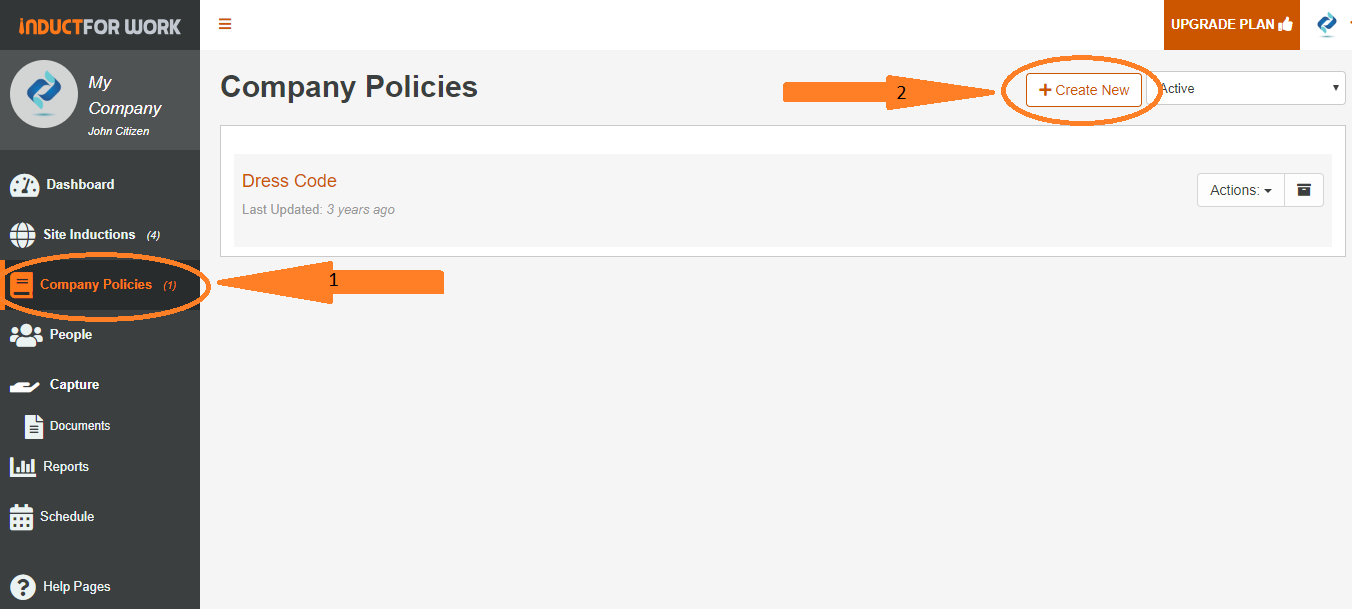 Step 4
Set up auto collection of compliance documents, such as licences, insurance, etc. Click on 'Documents' then 'Add New Group'.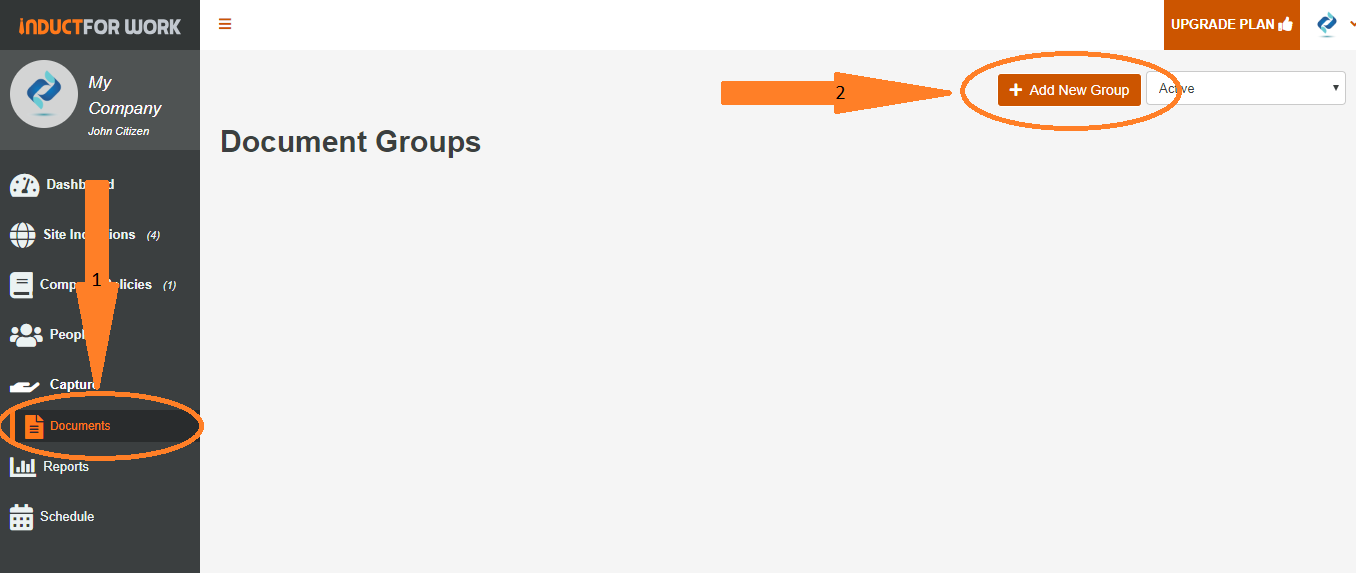 Step 5
Set up an Online Portal – your designated web address. A Portal is an entrance for your employees to their inductions. Click 'Site Inductions' then scroll down and click 'Enable'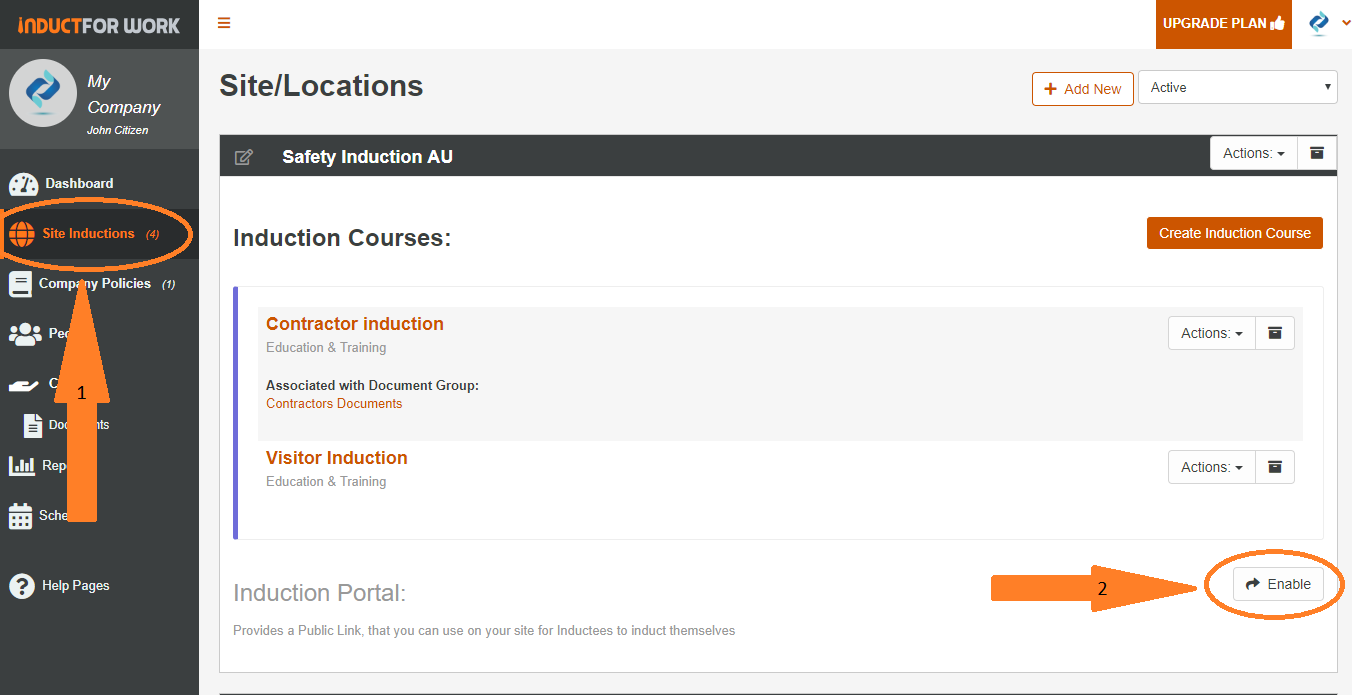 A web address will appear. It can now be embedded to your own website or simply emailed to all induction users. More options are available by clicking 'Actions' button.

Step 6
Start inviting your inductees. There are 2 ways to do so.
By sending inductees to self registration page, by emailing them a link to your portal.

By sending inductees a direct link as shown below.
Click on 'Site Inductions' then select one of your inductions, then click on 'Invite' and follow the prompts.

STEP 7
Monitor all your account activities from your Dashboard.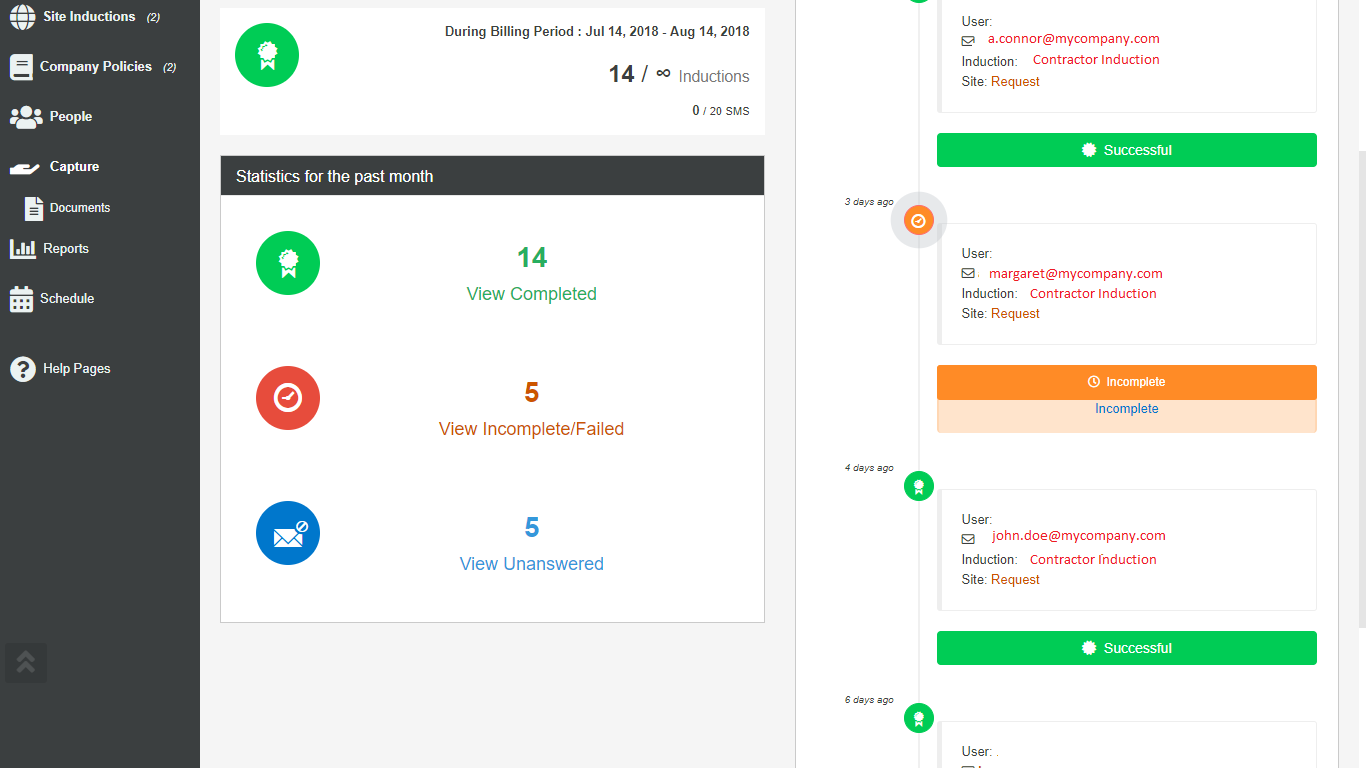 You can also generate a range of account activities reports.