How can Online Inductions Help your Labour Hire Agency?
The labour market is fast evolving. More organisations are now realizing the potential value of subcontracting some or all of their operations. A labour-hire agency is more or less a match-maker as its role is to connect individuals looking for employment opportunities with organisations looking to hire.
The Queensland Industrial Gazette defines such agencies as employers who are substantially or wholly engaged in supplying employees to other entity on contract or fee basis. The labour-hire agency is obliged to pay the employees they hire for the client company.
Labour-hire agencies are often confused with recruitment agencies, but they are quite different. A recruitment agency finds suitable candidates, interviews them, and present them to the client company. Once the client company selects their preferred hire, it pays the recruitment company the finders fee.
On the other hand, the employee will be employed by the labour-hire agency even though he works for the client company. This forms a triangular relationship where there's an agreement between the agency and the worker and a contract between the client company and the agency. This makes it ambiguous on which party is responsible for the employee's health and safety.
Why Organisations Use Labour-hire Agencies
There are different ways through which organisations can meet diverse workplace requirements. Some may choose flexible forms of employment such as hiring casual works while others prefer filling in skill gaps through labour-hire agencies. Some of the primary reasons why organisations choose labour-hire agencies are:-
Organisations can get pre-vetted workforce as and when it's necessary
One of the main benefits of getting your workforce from a labour-hire agency is that they often have access to a huge pool of workers with varying qualifications, skills, licenses, and so on. This implies that a labour-hire agency can quickly match you with a worker that meets your specific requirements. Should you find that the worker doesn't really suit you after onboarding them, the labour-hire agency can quickly replace them.
You can scale up or scale down your workforce on demand
During the peak season, you will need a well-trained and competent workforce to meet the organisation's demands, but what happens when this changes? You might find yourself paying for labour you do not need as you might be uncomfortable about laying them off.
A labour-hire agency gives you access to a well-trained workforce without committing to them. This is because the agreement is between the employee and the labour-hire agency. Once your peak season is over, you have no obligation to continue working with them. This is also a cost-effective way of getting qualified hires.
It saves you time and money during the hiring process
The hiring process is often long, costly and gruelling. Apart from advertising for the position and sifting through thousands of applications, you have to arrange for interviews, induct them, and make sure you fully onboard them.
For a flat fee, a labour-hire agency will take care of all these. Thus, you can focus on the core functions of your business.
Labour-hire Agencies and Workplace Health and Safety
While labour-hire agencies do not have direct control of the work environment, they are required by the Work Health and Safety Act 2011 to ensure that the employees they hire are placed in a healthy and safe workplace.
The host company is obligated to provide site-specific training before the employee starts working. This notwithstanding, the labour agency has a responsibility to assess the client company's ability to provide site-specific training and verify that the employee has received it.
The obligations of a labour-hire agency towards the employee include:-
Before sending out employees, the labour-hire agency has to visit the workplace and gather all the information about it. They should have comprehensive knowledge of the client company's operations, the workplace risks and hazards, what measures they have taken to overcome these risks and hazards, and so on.
The agency should also identify the specific hazards relevant to the gap the employee will be filling. This could include information on any equipment or machines they will be handling as well as any materials they will be exposed to.
Should the agency find out that the measures taken to minimize or eliminate the risks are not suitable, they have the right to decline to fill the skill gaps in the host company. The agency can also negotiate with the host company to try to improve these measures.
The above can only be achieved through workplace visits. The labour-hire agency needs to send out a representative before placing the on-hire worker.
The agency company needs to carry out a comprehensive induction. The employees should be made aware of the Occupational Health and Safety procedures, all the risks and hazards in the workplace as well as the control measures put in place.
It is the agency's responsibility to ensure that the host employer provides site-specific induction.
Assessing the employee's ability to perform their role safel
As a labour-hire agency, you need to ensure that the employees you take on can effectively carry out the tasks assigned to them. This means that they ought to have the necessary training and certification. Thus, you need to collect the necessary permits, licenses, and accreditation to handle special equipment. You also need to consider factors that will affect the employee's ability to carry out tasks effectively. These may include working for extended hours or even split shifts.
Continuous workplace monitoring
The labour-hire agency needs to ensure that the host company does not assign new roles or tasks to their employees, especially those they aren't qualified or certified for. They also need to ensure that all workplace health and safety requirements are being met. The labour-hire agency must ensure that arrangements for on-going risk assessment and identification are in place. If necessary, they carry out refresher training or induction.
Why Labour-hire Agencies Prefer Induct for Work
There's nothing worse than leaving employees to figure things out on their own. A good employer, and in this case a good labour-hire agency, is one that ensures that the employee knows what to expect right from the start.
Induct for Work is aimed at eliminating the costly, inefficient and time-consuming induction processes and replacing them with fast, easier and more reliable ones. Some of the reasons why Induct for Work is continually preferred over other online induction avenues include: –
Creating and implementing face to face induction is labour-intensive, time-consuming and costly. On the other hand, most online induction platforms can only be set up by technology-savvy people.
Induct for Work is designed to be operated by the layman. Our clients can easily set up and manage their accounts, upload their induction training material and monitor the inductees' learning progress. Rather than creating your induction content from scratch, you can also use Induct for Work's industry-specific content. Apart from getting fulltime access to your induction content, you can modify and even archive the content.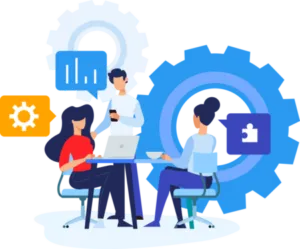 At Induct for Work, we believe in helping our clients solve their problems. We have a customer support system that enables us to respond efficiently and effectively on customer queries. We believe our clients are a valuable resource that helps shape our product and brand. Therefore, we aim at giving each of them personalized solutions. Our engineers are always ready to respond to your product-related queries through email and over the phone.
Streamlining the pre-employment process
Apart from the interview, other pre-employment activities include background screening, carrying out police and criminal background checks and superannuation document assessment and verification. Pre-employment screening exists to eliminate large numbers of unsuitable hires.
However, employers do not have unlimited rights to screen a candidate's background and personal life. The law requires that employers put in a request before carrying out any background search.
Induct for Work makes use of extensive resources and systems that will uncover any information that a hiring agency needs so that they make an informed decision regarding a potential candidate. Like any other investigation, the more the information you uncover and evaluate, the higher your chances of landing on the right candidate. We aim to provide you with unbiased candidate reports based on facts.
Apart from helping you collect and compile your potential hire's documentation; Induct for Work will automatically remind you when these documents are due for renewal. This helps you avoid liabilities through litigations.
Induct for Work makes it possible to manage multiple sites
It is likely that as a labour-hire agency, you have to manage employees in different sites and work environments. The site provides you with a variety of profile identifiers that will help you deliver tailored online inductions for specific job roles or work sites. You can also assess and test your inductees' comprehension levels.
You can easily personalise your content
With Induct for Work, you can make your induction content as lively and personal as possible. This can be achieved through the use of scenario-based learning experiences, infographics, simulations, tables as well as explore and learn strategies. Induct for Work features an integrated content authoring tool that enables you to come up with engaging content and upload them on the platform.
Labour-hire agencies not only have to deal with documentation from multiple host companies but also those of all the employees. These may include permits, licences, insurance, compliance certificates, training and accreditation documents, Union cards, Working Visa, and so on. Induct for Work provides you with unlimited storage space for all these documents. This makes traceability easy.
Online training has been proven to improve learning outcomes
As mentioned, Induct for Work helps you develop content that's more engaging and interesting. You can easily match any learning style thus ensuring that inductees do not get frustrated or bored. You can make use of visuals, audios or a combination of the two.
Through online training, you can also ensure that the content is consistent. Online assessments enable you to identify knowledge gaps and cover them appropriately.
Your on-hire employees can access the induction content from the comfort of their phone. Inductees have the freedom to study at any time and from anywhere.
Induct for Work uses leading technology when it comes to managing the integrity and security of your data. We make use of SSL certificates that support 356-bit encryption. This is the same level of encryption used by online banks. This prevents third-party snooping as well as login credentials' theft.
Induct for Work provides labour-hire agencies with the fastest way to train and onboard on-hire employees. The LMS automates the entire induction training process right from content development to tracking as well as reporting. Sign up for your free trial or for an online demo to better understand our product.