How to Choose the Best LMS in Australia
Gone are the days when training employees means giving the team a free ticket to dose off. Boring formal lectures. Dozens of slides no one can really cram inside their heads in one sitting. No wonder a lot of people are migrating learning activities to the online world – LMS!
The E-Learning market is a fast-growing community, forecasted to be a $325 billion worth industry by 2025. Australia is no exception to this trend. Let's take a look at a couple of reasons why this global expansion is perfect for the Aussie business sector:
Geographic dispersal – Australians have this unique set up where we live in communities far from each other, and our country is quite far from the rest of the world as well. Thankfully, e-Learning eliminates logistical expenses of in-person trainings.
Supportive regulatory framework – We're lucky that the Australian government put a high premium on the need for a highly-skilled workforce. Agencies such as the Australian Industry and Skills Committee (AISC) adopt an inclusive policy creation. This means that even your company can play a role in drafting laws for raising industries' productivity, competitiveness, and innovation.
Widespread use of mobile devices – Among the best assets of e-Learning systems is its accessibility. It's definitely great news that smartphone penetration in Australia is getting stronger, forecasted to be as high as 74.44% in 2022.
e-Learning compatible industries – The key industries we have (e.g. mining, financial, health care, engineering) is regulated with strict compliance training requirements. e-Learning systems can help plan, deliver, and document your educational and induction programs in a breeze! Even the growing market for business consulting can be assisted in scaling their revenues.
Sounds pretty tempting right? Whether you're on the lookout for your first online platform or searching for a new upgrade, count on me to walk you through the things you need to know in choosing the best Learning Management System (LMS) in Australia.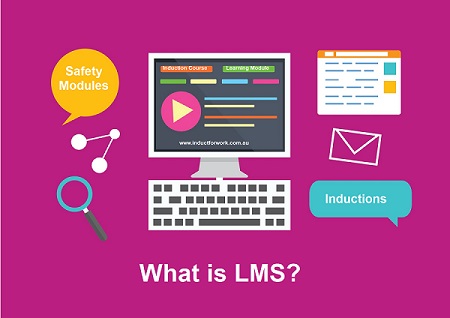 An LMS is a modernised educational strategy. With a software-based platform, you can easily manage, deliver, track, and generate reports for your team's training and inductions.
What's the first thing that comes to your mind when you imagine "studying"? If you're already a veteran in the human resources field, I wouldn't be surprised if you picture a bunch of people in the lecture hall attentively listening to a trainer. Okay, maybe not that attentively. It's no secret that in-person training is just not everyone's cup of tea.
As an alternative, LMS can help you evolve from these traditional training methods. You can accommodate all kinds of learners with varied mediums, including games, audio-books, and interactive quizzes;
Among the areas where LMS can ease your HR department's headaches are: employee on-boarding and training; selling of online courses; compliance training; integration of multiple existing e-learning programs; and extended learning for partners, re-sellers, and customers.
As a highly customisable tool, an LMS can be tailor-fitted according to the type of company that uses it.
Small and medium enterprises – Resources are scarce for this type of company, and LMS can reduce the monetary and time costs they regularly incur just to train employees. If you're an SME, it's such a pain to interrupt your team's productive days to squeeze in educational activities.li>
Large companies – Bigger companies are often burdened by the demand to implement large-scale training activities. Varied locations. Different audience characteristics. The accessibility and customisation functions of an LMS make it an awesome alternative to traditional methods.
Product and service-oriented organizations – After-sales activities, including assisting installations and software maintenance, often depend too much on people. A little too much if you ask me. An LMS can ensure consistent and quality trainings can be delivered to customers every time.
Best LMS features to look out for
An ideal LMS must open vast learning opportunities for your company. Before you make an investment, ask the solutions provider these questions:
Can I create or edit learning modules on your platform?
Do you have templates I can use in drafting my courses?
What formats of educational materials can I upload?
Does your platform support performance assessments?
How does your monitoring and feedback system work?
Can I migrate data from my old LMS?
You should pick an LMS that lets you upload videos, audios, and images – not just slides and e-books. An ideal software would even have a built-in designer tool for exams, surveys, and quizzes.
If you already have a big pile of manuals and modules, it also pays to check the syncing functions of an LMS. You wouldn't want to spend hours or days just to transfer all your files right?
Most LMS providers grant you a free trial period. Go wild and check its course creation, delivery, and monitoring features!
The most important aspect of learning activities isn't your modules, but your people that are meant to improve with them. No matter how beautiful and well-planned your modules are, its delivery can make or break your success.
Check our the LMS provider's answers to the following FAQs:
How can I send invites to my employees and contractors?
Do I have to set up each inductee's account, or can they register by themselves?
Can I customise the enrolment pages with my logo and colour scheme?
How can I track the responses to my invites?
Does the platform support automated and scheduled reminders?
Moreover, it's essential to deploy the right courses for the right people. Take your time in exploring how the LMS you're interested in lets administrators tweak the accessibility of each module.
High performing functions are as good as nothing if your inductees are having a hard time using them. Scout for these questions in your desired LMS' manual:
How long will it take for me to completely set up my account?
What skills are required for users to understand the software?
Can inductees access the LMD with smartphones or tablets?
Keep in mind your ultimate goal – shorten the induction process. What a bummer if your LMS would do the exact opposite! To ensure your program's workflow is convenient to all users, the ideal software must not give them any hassle regardless of their technical skill level.
Creating the best educational program doesn't stop on the last day of a course – it's an on-going process! Positive and negative performance alike must be seen as an opportunity to optimize your materials. To help you do this, make sure the LMS you subscribe to have the following functions:
Full tracking and monitoring features
Quick generation of reports
Graphs and illustrations for data analytics
How to get all the must-haves of an LMS with Induct for Work
There are a lot of options available in the Australian e-Learning market, but we'll make the hunt quicker for you. 
Induct for Work is a powerful LMS that boasts of a wide variety of features. Even better, you can customise the package you subscribe to. No lock-in contracts! Most of our plans include unlimited users access with unlimited online courses.
You've learned the must-haves in an ideal LMS by now, so allow me to walk you through how each one is perfectly integrated in Induct for Work's software:
1. How will Induct For Work lets me set up and customise my online courses?
Personalised inductions – Induct for Work's consultant are just a call away to help you ditch general modules, and craft personalised induction materials that are specific to your company and employees' needs. POA.
Multimedia support – Our platform supports multi-media file uploads, including images, videos, pdfs, and voiceovers. As a bonus, your powerpoints can be converted automatically into an online-compatible format using Powerpoint import function.
Video production – If you're interested in making educational videos, our team can shoot a professional instruction video to help equip your staff with the necessary skills and tools. We can also develop Virtual reality training modules.
Hassle-free integration – Our platforms allow you to transfer big data easily. We support file syncing with applications such as: OneDrive, Microsoft Office, Xero, iAuditor and two thousand of other apps.
2. How does Induct for Work assist my online enrolment process?
Enrolment portal– Induct for Work allows you to create and customise your own company profile where employees and contractors can self-register.
Personalised induction IDs – We hope you'll have fun mixing and matching elements with our built-in designer software. It allows you to design your own induction IDs to suit your corporate profile.
Corporate screening support – During the enrolment process, our software allows you to collect required documents from your inductees, including licenses, IDs, and certificates.
Induction branches – Our platform enables your account to be categorised into branches with specific site description and location.
Automated invite notifications – Induct for Work can track and follow up all unanswered invitations for enrolment. We can also provide you periodic reports in case reminders constantly get ignored.
3. Why is Induct for Work the most user-friendly LMS in the market?
Assistance for account setups – If you don't have the time to go exploring our administrator page, feel free to give us a call! Taking into consideration your preferred account settings, we can take care of the setup process for you.
Account management functions – We designed Induct for Work to make logins, content updates, and account adjustments fast and easy. System updates are included with all plans.
Mobile-friendly interface – Our developers carefully study each smartphone launched in the market, so you can be assured that all your materials will be displayed perfectly on any smart device.
Text to voice conversion – Your learners will enjoy to hear voice narration following Course text.  
4. How can Induct for Work assist me in generating reports and documentations?
Detailed admin history log – It's common for employees to try to get away with errors by playing the "I have no idea" or "It was not me" card. Lucky for you, Induct for Work tracks each administrator's activity –  including the changes they made to your courses.
Sign in and sign out summary – Our platform's sign in summary can help your HR monitor contractors' worksite attendance.  
Customisable reports – Induct for Work enables administrators to filter data and generate comprehensive reports. You're free to tweak each one according the your preferred variables, including date, induction status, and course names.