How to Avoid Occupational Hazards in the Healthcare Industry
The healthcare and welfare services industry is the highest employer in Australia as it represents 12% of the workforce. According to the Australian Institute of Health and Welfare, the industry employs more than one million people. These numbers are expected to grow as the Australian population grows and ages. The healthcare industry also reports the highest number of work-related illnesses and injuries every year.
Healthcare injuries and fatalities in numbers
According to Safe Work Australia:-
Common safety hazards in the healthcare industry
As there are various occupations in the healthcare industry, workers are exposed to different hazards. For instance, nurses and doctors are exposed to such safety risks as exposure to infectious diseases, toxins, radiation, back injuries, and stress. Housekeepers are exposed to injuries from improperly discarded needles, irritation from cleaners and disinfectants, and so on. People who carry out maintenance tasks in a hospital setting are exposed to risks such as exposure to asbestos, solvents, and electrical hazards.
These diverse healthcare hazards can be classified into four main categories. These include:-
These include injuries resulting from reactive, corrosive, toxic, or flammable chemicals or gases. Physical injuries can also result from extreme temperatures which cause heat stress or burns, lacerations, abrasions slips and falls, radiation, violence from aggressive patients, electrical hazards, and noise.
In order to counter physical hazards in a hospital setting, healthcare workers need to be trained on such things as:-
Ergonomic hazards result from repetitive motion, poor lifting techniques, eye strain due to poor lighting, and standing for extended periods. Safe Work Australia does not lay down specific rules when it comes to ergonomics in a healthcare setting. As such, healthcare employers may minimise ergonomic hazards by:-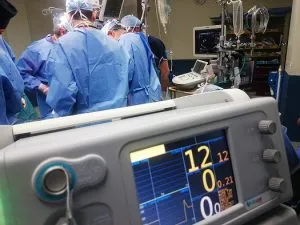 These include chemicals, biological agents such as disease-causing germs and pathogens, disinfectants, anesthetic gases, antibiotics, latex gloves, and hazardous waste. Unfortunately, these safety hazards affect healthcare workers in every sector including the lab, operating rooms, housekeeping, those in radiology, and even office areas.
Healthcare workers need thorough training on safe work practices as well as the exposure control plan. Workers should be trained on such aspects as:-
Healthcare workers are exposed to psychological hazards resulting from such factors as patient death, demanding or dependent patients, overwork, tight work schedules, bureaucracy, discrimination, technological changes, and malfunctioning equipment. All these results in stress, anger, and fatigue. Healthcare workers are also predisposed to feelings of powerlessness and isolation.
Failure to identify and treat the stress sources could lead to worker burnout. Healthcare workers that are most likely to experience severe workplace stress are those who work in emergency rooms, theatres, burn units and intensive care units. In order to minimise psychological hazards, health facilities should:-
How Induct for Work helps healthcare facilities
Compared to other industries, having well-trained and confident staff is critical for the healthcare industry. Induct for Work is an intuitive online induction platform through which you can induct healthcare workers in your facility. Proper induction leads to better co-operation, productivity, and motivation.
You can upload your own online induction courses to Induct for Work covering hospital safety, patient safety, and equipment safety among others. All these are designed to make the induction process less time-consuming and strenuous on the inductees as they can take them at their pace. Some of the features that make this the go-to induction tool include:-
Are you ready to induct your healthcare workers? Feel free to sign up for a free online induction trial account here today!