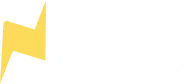 Online Inductions for Transport
spend less time recruiting truck drivers

Register and setup your account

Direct users to self registration portal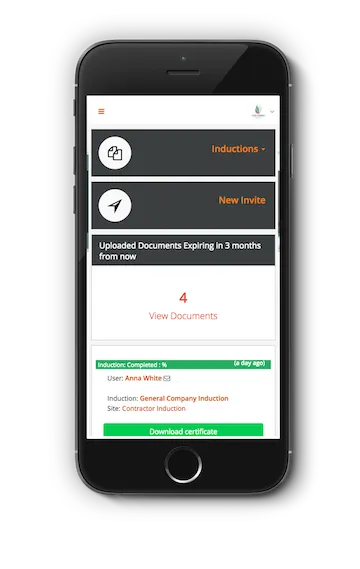 Ability for your workers to:
self register
provide you with all the required information and documentation and
acknowledge acceptance to your site safety polices and procedures
Design your own online Induction
Use our sample induction library to get started
Upload pictures, videos and audio files
Import existing Powerpoint induction
Let our professional create your induction from ground up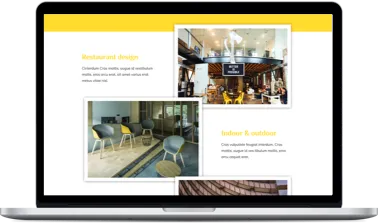 We can help you automate and streamline your entire recruitment and induction process
automate and simplify recruitment

and staff training today
mobile friendly

online inductions

for transport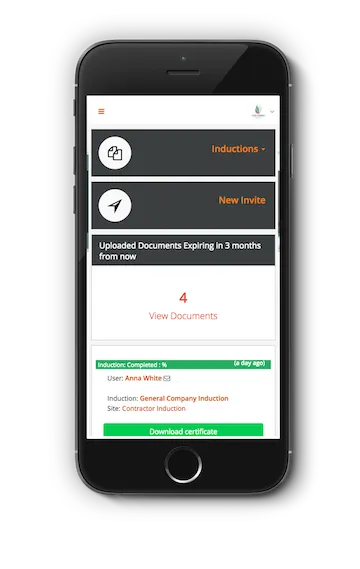 Maintaining Safer Roads in Australia: Why Inducting Casual Workers in the Trucking Industry is a Must
It's easy for retail shoppers and big time suppliers alike to unleash rage whenever their deliveries come later than expected, not knowing how perilous truck drivers' daily journey is. In fact, high fatality rates in the road transport industry had it flagged by the government as among their national priorities for The Australian Work Health and Safety Strategy 2012–2022.

After all, the trucking industry is considered as the fifth deadliest sector in the country. In the years 2003 to 2015, a whopping 583 work-related fatalities were recorded, with 92% of that attributed to freight companies. These figures are alarming since the number of employees entering the industry is increasing at a steady pace, and only 74% of them are covered by workers' compensation and benefit schemes.

According to Safe Work Australia, the road transport industry accounts for 17% of work-related fatalities in the country and 4% claims for injuries and diseases. Each year, they process over 5,100 worker compensation claims which means that there are roughly 14 serious cases every single day.
While there have been impressive reductions with injury and fatality rates over the past decade, great responsibility still rests on logistic companies' backs to ensure that their workers will not fall victim to accidents while fulfilling their high-risk tasks.

And so in this guide, allow us to help you understand further how inducting casual workers in the transport industry is a must for maintaining safer roads in Australia.
Straight from the Fair Work Ombudsman, those employed without a contract that fixes the length of service and reporting schedules are considered casual workers. This means that they don't have permanent shifts and the days or hours of their duty often vary. Moreover, the law doesn't oblige employers to compensate them whenever they call in sick. Unlike other industries, trucking and logistics has never been confined to normal work hours. It is also sensitive to seasonal peaks, demanding a constant stream of on-call employees who can fill in temporary workforce gaps. Especially in busy shopping seasons, hiring casual workers is among the most practical solutions for freight companies.
What are the common workplace hazards that casual workers in the trucking industry have to deal with?
* Sprains and strains Considered as the most frequently reported of all workplace injuries in the transport industry, casual workers often suffer from traumatic joint or muscle issues due to the nature of their work. They usually have to remain seated during hours of driving, as well as carry heavy loads and packages.
* Circulatory system diseases These include cases of stroke, hypertension, coronary artery disease, and heart failure. It's surprising to know that workers in the trucking industry are the second most exposed sector to these diseases, next to the military, police, and fire fighters.
* Time Pressures Especially in peak seasons, casual workers are pressured with strict deadlines to the point that they'd rather skip break times or go over speed limits.
* Fatigue and Poor Physical Fitness Casual workers' irregular work schedules can take a toll on their health and safety. After all, truck drivers seldom have the time for exercise, are often diagnosed with high levels of obesity, suffer from sleep apnoea due to their shifts, and also smoke frequently.
* Poor Vehicle Design Basically, a driver's workplace is the vehicle he uses. Poorly designed trucks with non-ergonomic seats can greatly put them at risk of musculoskeletal discomforts and organ dysfunctions due to higher vibration levels. Add to that the long hours they're expected to just sit and drive, often having no choice but to endure the soreness they feel.
*Manual Handling of Heavy Loads Casual workers in the trucking industry got to deal with the packaging, loading, and restraining of heavy goods. Without proper restraint and protective equipment, they are exposed to muscle discomforts and other warehouse accidents.
* Working at an Elevated Platform Throughout their shifts, drivers and loaders alike have to climb onto and off transport vehicles. This puts them at risk of falls that can cause muscle and organ trauma or even fractures. * Exposure to Fumes and Gases Casual workers in the trucking industry are constantly exposed to airborne hazards including fumes and gases. Especially for freight companies with outdated vehicle designs, the lack of ventilation and exhausts can be damaging to the respiratory system of drivers.
What are the duties of trucking contractors to their casual workers?
The government and Australian trucking organisations alike have standards in place that require trucking contractors to ensure that no employee is exposed to unnecessary risks as they carry out their logistical jobs.
The Transport Safety group has published "A Guide to Occupational Health and Safety Transport Industry" which enumerates the following duties expected of employers:
* Ensure that employees are fully aware of the freight company's occupational health and safety procedures before being deployed for work
* Define clear roles and responsibilities
* Establish clear communication and reporting lines between each worker and their company
* Should there be designated liaisons, they must be given adequate training in the management and control of workers including applicable
legislations, enacted cafes of practice or safety guidelines, and all processes concerning the duties of employees
* Deliver a complete briefer on the expected job deliverables, recording and reporting requirements, company policies, and identified work hazards
* Train employees on how to manage specific workplace hazards with reasonably practicable measures
Who can be held liable for road safety violations?
How can Induct For Work can help induct casual workers in the trucking industry?
Freight companies and other operators of delivery vehicles barely have access to facilities that can administer effective and comfortable inductions. Imagine giving out lectures in warehouses or loading docks. Quite far from a conducive learning environment, if you ask us. Moreover, your company is probably in a race against time to keep up with customer demands, that's why you resorted to hiring casual employees in the first place. Imagine receiving tons of complaints about delayed deliveries just because you had to squeeze in days or even weeks to accommodate proper inductions. Don't fret, you don't have to endure all these setbacks. From unreliable traditional methods, you can make the switch to online learning techniques through Induct For Work. Put simply, our platform can assist you in delivering rapid inductions alongside, collecting required documentations. Allow us to walk you through its powerful features that make all these possible:
You can now easily customize your entire induction process
Notice how each individual in your chain of responsibility requires varied materials to carry out their tasks safely and properly? Trust us, you can't afford mixing up induction activities among your loaders, packers, and drivers. Count on Induct For Work to assist you in crafting induction modules that are tailor-fitted to each of your casual workers' roles. This is made convenient by our user-friendly admin portal that can help you manage each inductee's profile and enrolled courses. In case you don't have educational materials tackling your safety plan yet, our customizable templates got you covered. You can enjoy all these with the peace of mind that your inductions will generate consistently excellent results. Regardless of the season you've hired your workers, they'll get access to the same quality of program you've designed. That's a big upgrade from face-to-face lectures that greatly depend on a trainers' knowledge, personality, and availability.
Nope, you can't get away with the excuse that "it's the driver's fault anyway, not mine."
Let's acquaint you with an important principle, the chain of responsibility. This simply means that anyone who is entrusted with control over a transport operation can be held liable for violations of road laws. It's not just the driver who might face legal consequences, but practically anyone engaged with the trucking industry as part of their business. This includes those involved in:
• Consigning - arrangement of the carrying of packages
• Packing - preparation of goods for delivery by their placement in packages, pallets, or containers
• Loading - restrainment and placement of packages on a delivery vehicle
• Driving - the actual driving of the delivery vehicle
• Operating - management of the business that employs the use of a delivery vehicle
• Receiving - taking possession of and payment for the delivered goods
If you're on this list, your action or inaction can make you accountable. You have to share a fair amount of duty in ensuring that road safety breaches won't occur in the first place. Here's how:
Consignors and Receivers
• Do not make any demands that will force the truck driver to exceed the road speed limits, go past the lawful driving hour, or skip the required minimum time for resting
• Ensure that the packages carried on your behalf are appropriately secured, does not exceed prescribed dimensions, and will not cause overloading.
• Request materials about the industry codes, systems, and controls you're expected to comply with
• Ensure that you'll only engage with commercial arrangements that have compliance assurance conditions in place Packers
• Ensure that any labels and documentation concerning packages are neither false nor misleading
• Conduct regular safety checks to ensure that goods packed and containers used do no
t exceed prescribed dimensions and will not cause overloading
• Keep a pre-printed form designed to help packers monitor the goods they processed and verify all future reports
Loaders
• Conduct regular safety checks to ensure that packages loaded do not exceed prescribed dimensions and will not cause overloading
• Secure loaded goods so that it's unlikely for these to move, fall off, or become unstable during travel
• Check the quality of used chains, roaps, straps, and other restraining tools
• Keep a loading diagram meant to monitor the different types of packages and their compliance with axle weight limits
• Maintain reasonable caution for cases where it is impossible to accurately measure the vehicle's weight by under-loading at first and scaling the subsequent packages accordingly
• Maintain and check the accuracy of used scales
• Monitor and report the running total weight for each trip
• Comply with relevant policies on the safe handling of specific raw materials, waste, or by-products that are considered health risks Driver
• Comply with all legislations concerning prescribed driving hours, required rest breaks, and speed limits, and keep documentations for such compliance (e.g. weighbridge dockets, loading records, etc.)
• Check if your carried packages are properly restrained, do not exceed mass limits, and adhere to required dimensions
• Avoid tampering with required vehicle fittings and equipment
Operators • Ensure that all deployed working schedules will not pressure drivers into overspeeding, exceeding driving hours, and skipping required breaks
• Check if each vehicle's speed limiters are properly functioning
• Conduct inspections meant to ensure that vehicles and its loaded goods do not go past dimension and mass limits
• Provide appropriate restraining equipment and check if they are adequately used, along with necessary personal protective equipment for workers
• Keep records of all workers' driving hours, rest times, and other activities required to be documented in compliance reports
• Implement workplace safety systems that are auditable and scalable
• Clearly stipulate compliance assurance conditions in any administered commercial arrangements
• Deliver all necessary information, training, and supervision to concerned employees
• Conduct formal consultation processes with relevant stakeholders regarding workplace safety policies
• Regularly exchange information with the government regarding any occupational health and safety issues
• Formalize risk assessment and management procedures
• Ensure that all transport vehicles owned are designed according to occupational health and safety standards (e.g. ergonomic layout, safe noise levels, accessible entry and exit points, etc.)

Inductions are focused on individual needs and preferences of your casual workers
Great news for you busy bees, Induct For Work can get your induction program started even before your new hires step into your office. As long as they have an internet ready gadget, they can access and finish their online training anytime and anywhere they wish. What's more, varying learning styles can be accommodated through multimedia materials, including videos, interactive quizzes, e-books, and audios. How awesome it is that they could even listen to modules with our text-to-audio conversion feature which can help refresh their knowledge even while on the road.
Kiss the hassle of reports generation goodbye
You're gearing towards computer-based tracking and management of packages, so why would you want to endure the hassle of paperwork for your inductions? Induct For Work can make it easier to comply with required documentations through its performance trackers, reports generators, and compilation portals. With just a few clicks and scrolls, you can now easily access your casual worker's acknowledgement receipts for your delivered induction materials, learning activity time logs, complete assessment scores and analytics, and submitted work permits, licenses, or insurance papers.