Workplace safety and COVID 19 in australia
Since its first confirmed case in January 2020, Australia has treated and managed COVID-19 as a health emergency. With strict policies supported by adequate health care services, we're among the countries applauded for successfully flattening the curve.
If you look at the numbers, we were able to limit COVID-19 transmissions and deaths. The Department of Health reported by May 8 that we've had 6,914 confirmed cases. A huge chunk of 6,079 was able to recover, and only 97 deaths were recorded.
It's reassuring to know that we're winning the fight, but every sector has a role to play in keeping those figures low.
In this guide, allow us to walk you through the best practices for maintaining workplace safety amidst a pandemic and how your company can help Australia beat COVID-19.
What are your duties as a business owner under Australian laws?
Setting concrete guidelines, the Work Health and Safety (WHS) requires all employers to take care of the safety and health of all employees, contractors, customers, and all other people visiting their site.
Your job? Maintain a safe work environment equipped with adequate and accessible health facilities. This pandemic also calls for heightened monitoring of your workers' health and workplace conditions.
1. Your duty to your workers and other people in the workplace
Even before this pandemic wreaked havoc across the globe, you already had the duty of ensuring your workers, contractors, and customers' health and safety. This is a good time to update your risk assessments and welfare policies. 
The goal is simple. Eliminate your stakeholders' exposure to COVID-19. In industries where this is impossible, this risk must be minimized as far as it is reasonably practicable.
To fulfill your duty to your workers, you can consider this safety checklist:
Design and implement work from home arrangements
Require your employees and workplace visitors to practice physical distancing
Oblige stakeholders to practice good hygiene through strict workplace policies and complete access to well-stocked facilities
Require all stakeholders who are sick to stay at home
Schedule regular and thorough cleaning of the workplace
2. Your duty to maintain your workplace and its facilities
Without proper risk assessments and collective measures, it's as if you're giving COVID-19 an all-access pass to your workplace. One reckless or negligent move can spike the curve up again.
Invest in and maintain a COVID-19 free work environment by adhering to the following WHS recommendations:
Restructure the layout of your office or site so it will be conducive for physical distancing
Limit the number of people present in the workplace at any given time
Provide adequate facilities designed to protect all stakeholders from contracting the virus, including:

Washroom facilities
Enough supply of soap, water, hand sanitisers, paper towels, and other hygiene kits
Regular and thorough disinfection of staff rooms
Scheduled breaks for employees to practice a hygiene routine
3. Your duty to provide information, training, and supervision
Your employees' first line of defense against COVID-19 is their knowledge. With this, WHS requires you to equip them with all the necessary information and training for risk mitigation. You can publish and deliver materials about:
Tutorials on proper handwashing
Training guides for how to fit and put on all necessary personal protective equipment (PPE)
Articles on the importance of adequate cleaning and disinfection practices throughout the day
Helpful instructions on how workers can set up a safe work station at home
Guidelines on what employees must do if they have acquired any of the COVID-19 symptoms (e.g. fever, dry cough, difficulty of breathing, etc.)
We know that a global emergency like COVID-19 requires swift action, but Safe Work Australia wants to make sure that new policies and procedures do not come at the expense of employee exclusion.
You are legally obliged to hear your workers out, take their views into account, and communicate the consultation process' outcome whenever you're dealing with the following matters:
Planning and conducting COVID-19 risk assessments
Decision-making for control measures envisioned to manage stakeholders' risk of exposure to COVID-19 (e.g. introduction fo work from home arrangements, workplace restrictions for physical distancing, etc.)
Decision-making for stocking up or upgrading workplace hygiene facilities
Proposal of any changes in your workplace SOP that may affect employees' health and safety
Ideally, you must already have guidelines for conducting employee consultations even before the pandemic emerged. Procedures for your COVID-19 meetings must adhere to this policy. But in case you have no backbone guidelines for hosting one, you can check out the Code of Practice: Work Health and Safety Consultation, Cooperation, and Coordination for a checklist of your duties in giving workers a voice.
Why should I conduct a COVID-19 Risk Assessment?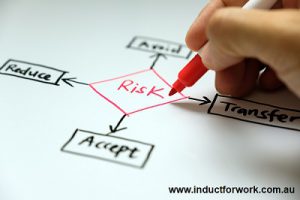 Risk assessment and management can spell the difference between employees' life and death, and that's definitely not an understatement when we talk about COVID-19.  Basically, it involves a proactive process that will help you stay above changes and pursue continuous improvement for your organisation. For it to be effective, risk assessments should be planned, systematic, and completely covers all potential workplace hazards and risks associated with these. In this process, you'll have to think and reflect on what could happen if someone in your team got exposed to COVID-19 along with the likelihood of that dreaded scenario from happening. By conducting risk assessments, you'll no longer be blind about:
The severity of the risk
Efficacy of any control measures you have in place
The required step-by-step action on how to control the risk
The urgency for any required action to be taken
When done right, you'll have a solid armory of information that can help you:
Identify who among your organization is most vulnerable to COVID-19
Determine the possible causes of COVID-19 transmission in your workplace
Design the type of control measures needed to be implemented
Monitor the effectiveness of your existing control measures
Depending on the type of hazards in question and your available resources, you can adjust the specifics of your risk assessment. It can be as easy as a roundtable discussion with your employees, but can also be as complex as seeking expert advice and research.
How exactly should I conduct a risk assessment?
A safe and healthy work environment does not happen with a flick of a magic wand. It takes a lot of brainstorming, time, and collaboration. What can possibly go wrong? What are the consequences when worse comes to worst? After a series of trips to your team's mind palace, you've got to do everything in your power to eliminate or minimize all risks associated with COVID-19 in your business. In its most basic sense, risk assessment and management has four important steps:
Step 1: Identify Hazards – determine all possible causes of COVID-related complications that can occur in your workplace.
Step 2: Assess Risks – try to understand the nature of the hazard and the harms associated with it. How serious could it be? How often can complications occur?
Step 3: Control Risks – choose the best control measure applicable to your business and implement it. You can speed up this step by checking out reliable sources about how businesses across the world have been adapting to COVID-19.
Step 4: Monitor Results -review all of the hazards you've identified and control measures you've implemented, with emphasis on ensuring that they are working as intended.
You can use these steps as a framework for your risk assessment and management, but its implementation must consider the size and nature of your business. The larger and more exposed your organisation is, the more sophisticated the process should be.
Where can I find information on COVID-19 risks and possible control measures?
General Risks – Go and visit Safe Work Australia's websites for known COVID-19 risks and safety measures tailored for your business' industry and activities. Your industry association, local health department, and jurisdictional WHS regulator can also be a goldmine for workplace safety ideas.


Business-specific Risks – There's no person more acquainted with your business than you and your team. With detailed consultations, everyone in your team can help identify risks specific to each department and pitch in suggestions on how to address them. Look into how you normally conduct your operations and identify danger zones for COVID-transmission.


Unforeseeable Risks – No matter how thorough your preparations were, there might be some risks that you'll never be able to predict. After all, we're dealing with a new virus that doesn't even have a vaccine yet. While normal risk assessment and management measures can barely help in these unforeseeable circumstances, you can use your adjusted work environment to pick them up. Monitor your employees and ask them about any hazards and risks that your COVID-19 safety policy was not able to cover.
How can managers and HR personnel provide support to your employees?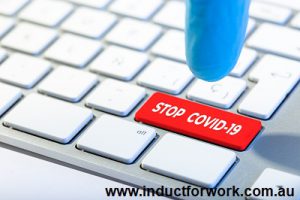 Many organisations have been requiring employees to stay out of the workplace, making it more important than ever to cultivate open communication within organisations. Your leadership team and HR personnel can connect with and support employees through the following best practices:
Be accessible and show empathy at all times. As much as you need them to be productive and efficient, you have to understand that your employees can have a lot on their minds right now. The sufficiency of their food stock. The safety of their families. There are times that they can feel so overwhelmed with their anxieties that keeping up with deliverables seem impossible. Instead of lashing out, you might want to be more of a friend than a boss to your workers. Offer your time to talk about their fears and to answer questions about life or work that might be keeping them up at night.
Stay connected. Daily huddles could have been part of your productivity routine, but COVID-19 obviously made that impracticable. Thankfully, there are virtual meeting and training tools that can help you check on your workers.
Recognise how isolation and loneliness can affect employees. Work from home arrangements are easier said than done, especially for workers who are at their best when they're with a team. Your new set up could make some employees feel isolated, lonely, or even depressed. Schedule periodic check-ins with your employees not just to monitor their work progress but also to see how well they're coping emotionally.
Encourage online learning. With increased time periods spent on the Internet, stay at home regulations can open opportunities for modernised learning methods. Encourage your employees to learn new skills of polish existing expertise through online modules. The sense of fulfilment they could get after finishing a course can be such a great distraction from all the negativity surrounding this pandemic.
Check your employees' health plans. Reach out to your health benefits provider to make sure that any COVID-related medical bills won't break your employees' bank. You can also check if there are online mental health support that your employees could avail of. Along with relevant website links and contact details for medical services to your employees, communicate all of this information to your employees so they won't feel helpless in the face of an emergency.
Using Induct For Work to help employees cope with COVID-19
We know that sudden adjustments to your business operations can be really challenging. There is a greater demand for communication and safety trainings, but traditional face-to-face methods are definitely impractical due to COVID-19. Apart from the fact that your usual conference room lectures are boring, ineffective, and inconsistent, requiring employees to go to the office just to be oriented about new safety policies puts them at risk of contracting the virus. Don't fret, we have another option for you to help employees cope with COVID-19. If you have loved platforms that made virtual meetings and team collaborations possible, we have great news for you. Even your safety inductions and training programs can also be migrated to the Internet! With Induct for Work's intuitive online induction tool, your business can design, manage, deliver, and monitor your COVID-19 responses in no time. Subscribing to Induct for Work grants you access to these powerful functions that can greatly boost your organisation's resilience amidst this global health emergency:
Customisable courses and induction processes. Induct for Work allows you to easily design or upload content for your COVID-19 response orientation. In case you do not have a safety plan yet, our templates got your back to still make rapid inductions feasible. Even better, the platform enables you to migrate your learning programs designed to keep your team's skills and competencies as sharp as ever.
Accessible and learner-focused modules. You don't have to worry about ensuring module delivery and completion at the expense of caring for your employees' mental health. Through Induct for Work, employees and contractors can complete the required courses at their own time and pace. No unnecessary pressure! Wherever Internet connection is available, a remote briefing is certainly possible. Even better, our platform supports multiple forms of media (e.g. video, audio, photo, etc.) so you can design content that's fit to every type of learner.
Convenient documentation. Forget all the paperwork and hassle of traditional methods. Your HR and legal team will definitely appreciate how Induct for Work can easily generate documentation for your compliance to workplace safety laws. What's more, it even allows employees to upload medical certificates or insurance papers that can easily be verified and checked for pending renewals. Check out these specific features that make these possible:
Complete time logs on when your modules were accessed and completed
Easy compilation of acknowledgement receipts from employees regarding your COVID-19 safety procedures and policies
Score tracker for your modules' assessment tests, allowing you to monitor inductees' level of comprehension
Automated schedules for refresher and advanced courses
Collection portal that enables inductees to upload all of your required documentation (e.g. insurance papers, work permits, medical certificates, licenses, etc.)